Welcome to Cool Creek Farm
New - Product List Updated for 2010
Almost 40 new fragrances now available to order online! View now
16 all natural soap fragrances added!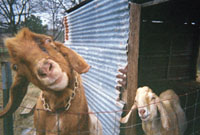 The qualities of milk for bathing are well known. Perhaps you have heard that Cleopatra took milk baths as a beauty aid. But did you know that it was goat's milk? Goat milk has a natural exfoliating action, as well as contains vitamin E for healing the skin. Soap that contains goat milk is more beneficial to the skin than most other types of soap.
It took us many attempts to find the right recipe. We have discovered combinations that contain just the right amount of olive and other oils to make the soap rich and long lasting. If we had our way, we would make soaps all day long and be more and more creative with fragrances and natural ingredients. Continual experimentation for the finest natural products continues.
The milk we use for our soaps, and soon our cheese too, comes fresh from our herd of Nubian goats. Some soap makers use powdered goat milk but our soaps, with fresh milk have a higher quality.
In addition to the goat milk, we use quality oils and essential fragrances. Olive oil helps moisturize dry and sensitive skin and coconut oil adds a rich creamy lather.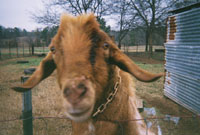 Our farm is located in Shake Rag Texas, in the lush rolling hills of North Eastern Texas, just 13 miles from Henderson, TX. Yes, believe it or not, parts of Texas have rolling hills and this state also has beautiful forests. We are located on one of the highest points in East Texas and watching the goats wander the fields from this vantage point is a beautiful sight.
Why Cool Creek Farm? Well, there is a natural spring creek on the farm that runs continually throughout the year, even in some of the longest droughts. Many shade trees line this creek keeping it cool during the heat of summer, hence Cool Creek Farm. The goats love to sit under the shade trees and drink from the creek. Boy, are these goats spoiled!
Currently 16 goats are due to kid out in the spring of 2008. The farm will be filled with dancing kids as well as 16 does that need to be milked twice a day. We are upgrading our barn and milk house to obtain a state certification as raw goat milk dairy. We will then be able to sell our milk from the farm, unpasteurized. The milk, which is high in cream content, will be perfect for some great goat milk cheese such as Feta, Queso Blanco, as well as other rich cheese.